Microsoft Cloud for Financial Service Firms
The COVID-19 pandemic and the onslaught of disruptive innovation bolstered the value of digitization in the financial services sector and created new expectations for employees and customers. By interacting with customers daily, financial service firms have increased their focus on how they accelerate their digital agendas to empower their employees and serve customers better while at the same time minimizing the costs of operating their businesses.
This has put a strong emphasis on the use of cloud technologies and services. That said, when it comes to digital tools and cloud technologies, most businesses regard the Microsoft Cloud as their go-to tool, given that it is tailored to their specific needs and challenges. In this post, we'll walk you through how your financial service firms can leverage Microsoft Cloud.
But first, a brief overview of what Microsoft cloud for financial services is.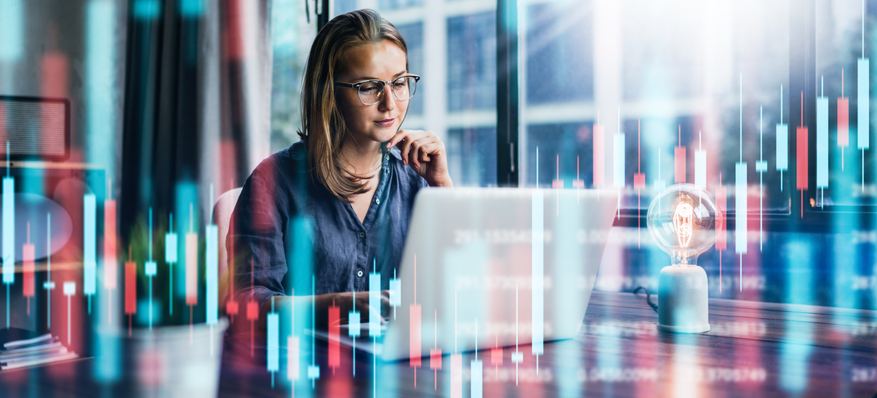 Defining Microsoft Cloud for Financial Services
Microsoft cloud for financial services offers capabilities for managing financial services data at scale, thereby making it easier for financial service firms to empower their employees, tackle financial crime, and deliver differentiated customer experiences. It also facilitates security, compliance, and interoperability.
Microsoft cloud for financial services solutions enhance automation and collaboration and provides insights for streamlining business processes, personalizing every customer interaction, improving customer experience, and delivering rich data insights.
This data model enables Microsoft's customers and partners to extend the platform's value with additional tools that address the financial industry's most pressing challenges. These capabilities also help financial organizations to align their operational needs such that they can deploy rapidly to quicken time to value.
Microsoft's cloud solution for financial services unlocks the power of Microsoft Dynamics 365, Microsoft 365, and Microsoft Power platforms in order to innovate for sustainable and responsible growth.
How Businesses Can Leverage Microsoft Cloud for Financial Services
Here are some of the ways you can benefit from using Microsoft cloud for financial services:
1. Enhancing Employee and Customer Experience
Microsoft cloud for financial services is tailored to address the critical needs of financial service firms by empowering employees through teamwork and creating differentiated experiences that the modern customer expects.
According to the 2021 Capgemini World Retail Banking Report, 81% of customers said that flexible banking and easy access motivates them to switch to a new-age financial provider. As more and more customers embrace digital tools, continued focus on ensuring the interoperability of ecosystems, data connectivity, and actionable insights are crucial to customer retention and winning over new ones.
Here is an outline of how different Microsoft cloud for financial capabilities help enhance employee and customer experiences:
Customer onboarding: Gives customers easy access to self-service tools and loan apps, thereby helping streamline the loan process to enhance customer loyalty and experience while also increasing employee and organizational productivity.
Unified customer profile: It helps financial service firms tailor customer services via a 360-degree view of the customer by bringing together behavioral, financial, and demographic data.
Collaboration management: Helps financial service firms seamlessly incorporate collaboration into their lending operations. In doing so, it enhances process orchestration throughout the business and facilitates omnichannel communication with customers.
Banking customer engagement: It helps personalize customer interaction with financial understanding so that you can engage with customers meaningfully on their preferred channel while intelligently monitoring their journeys across channels to reduce time to resolution and churn.
2. Compliance, Privacy, and Security Management
Every other day, global and regional compliance regulation standards continue to expand. Most firms find it challenging to keep up with these increasing regulatory requirements and scrutiny being administered by financial services regulators. There has also been an increase in cybersecurity incidents over the past few years.
Financial service firms that leverage the latest technology to manage their security usually find themselves in a better position when addressing risk management and compliance challenges. Some of the Microsoft cloud capabilities for financial services that can help solve compliance and security challenges include:
Regulatory compliance assessment: This feature helps financial service firms manage compliance requirements more conveniently and easily. It streamlines processes such as taking inventory of data protection risks to manage the complexity of managing controls, reporting to auditors, and staying current with regulations and certifications.
Risk assurance support: A premium "white glove" service, which is provided by a dedicated team of engineering subject matter professionals that support your internal and external security and compliance teams, helps address financial services regulatory compliance, privacy issues, and cybersecurity.
3. Combating Financial Crime
With more customers conducting online transactions, there's a need to analyze data to prevent financial crime. Addressing fraud not only protects customers but also safeguards a firm's reputation. Microsoft cloud for financial services can help businesses combat financial crime in the following ways:
Purchase protection: It helps protect merchants from becoming victims of online purchase fraud using advanced adaptive AI, thereby minimizing false positives and optimizing acceptance rates.
Account protection: It helps financial service firms protect their identity in the digital account layer. It does this by helping them identify and prevent fraud in account creation and login. As such, it protects firms against bot attacks, account takeover, fake account creation, and fraudulent account access.
4. Integrating the Power of Partnership
Microsoft's growing ecosystem of partners extends the robust capabilities of Microsoft cloud for financial services. Its partners strive to enhance their service delivery by providing integrated solutions that minimize risk across the system, help financial service firms identify new opportunities for innovation, and reduce time to market.
Additionally, Microsoft's data model enables Microsoft's partners to expand their solutions by increasing cloud capabilities and creating a frictionless environment for shared customers.
5. A Launchpad for Innovation and Growth
Most businesses prefer cloud services that have been tailored to their needs and challenges. For financial services, this need has been answered by Microsoft cloud. This industry-specific cloud comes with new capabilities that add to Microsoft's existing cloud service, and together they truly unlock the power and value of Microsoft cloud to help innovate for responsible and sustainable growth.
Microsoft cloud for financial services design is ideal even for complex frameworks and regulatory standards facing the financial services industry – it has multidimensional security, in-built trust commitments, and comprehensive compliance. All these enable financial institutions to unlock unprecedented value.
6. Enabling a Green Financial Services Industry
Today, the financial services industry is prioritizing sustainability by taking responsibility for its role in climate action. Microsoft is focusing on empowering financial services players to create environmental, social, and governance (ESG) solutions to help them deliver on their organizational sustainability priorities. For instance, Microsoft recently partnered with a UK bank to help them better understand their carbon footprint so that they can create tailored actions to minimize their carbon emissions by leveraging Microsoft cloud, data, and AI platform.
Cloud Migration Recommendations for Financial Service Firms
Below are five tips on how financial service firms can make their migration to the cloud go smoothly:
1. Focus on Customer Experience
Your customers should always come first. For instance, you may have an AI chatbot, but your customers now expect more. Financial service firms should deliver the right data and services by creating contextual and personalized omnichannel experiences that are enabled through end-to-end machine intelligence (MI) and artificial intelligence (AI) platforms that can process data in near real-time and batch it to create personalized content.
2. Reimagine Business Operations
The cloud plays a crucial role for businesses that want to enter an environment where they operate differently and at an advantage. But first, you need to be open to reimagining your business operations and processes. For instance, you could incorporate optical character recognition (OCR) that streamlines accounts payable, accounts closure, and credit card processing, robotic process automation (RPA) that accelerates report automation, and natural processing language (NPL) and bots that support customer service. You can also encourage your managers to come up with new ways of doing things by leveraging cloud solutions.
3. Launch Digital Business Strategies
Upon establishing robust omnichannel customer experiences, you can take advantage of digital native capabilities to experiment on new revenue channels. Utilize cloud computing as the centerpiece to enable enhanced capabilities and revenue-generation avenues.
4. Review Your "People" Strategy
To be successful in the cloud, you need not only focus on technology. You also need to consider how work processes will change, enhancements to your business models, organizational structure, and evolving goals for talent and cultural mindset. Rethink your business IT and alignment to ensure that it supports the shift in focus to delivering business value instead of managing infrastructure.
5. Focus on the Full Potential of the Cloud
Establish a clear direction on how you can leverage cloud solutions to meet your business goals, navigate the transformational journey, and how to develop the necessary operating strategies and capability changes needed. With this clarity, you'll be better placed to define the scope-based technical and business drivers for moving to the cloud.
Kraft Technology Group Offers Cloud Services in Nashville and Middle Tennessee
We will work together with your business to integrate cloud technologies and then educate your employees on ways to make use of various functionalities within the cloud applications and platform.
We will first assess your infrastructure to determine what's working and what's not. And then, we will make recommendations of where cloud computing makes sense for your business. Finally, our cloud specialists will move forward with migrating each aspect of your business's data and workflow so that you can get maximum benefits from being housed in the cloud. Contact us today to get started.
---