Quality IT Services In Franklin, Tennessee
Franklin, Tennessee has a quaint atmosphere and historic charm that make it one of Livability's top 20 best places in America. Franklin's popularity is also on the rise because it offers an innovative tech scene, making it an ideal location for startups, major corporations, healthcare, and financial services companies. Regardless of your company's industry, it is your responsibility to maintain smooth, secure IT operations.
If your company needs IT services in Franklin, TN, Kraft Technology Group (KTG) is here to help you. With 30 years of industry experience, Kraft offers a comprehensive portfolio of top quality IT services. Whether you need managed IT services, a virtual Chief Information Officer, or an IT consultant, the team at KTG offers a proven process and a 100% satisfaction guarantee.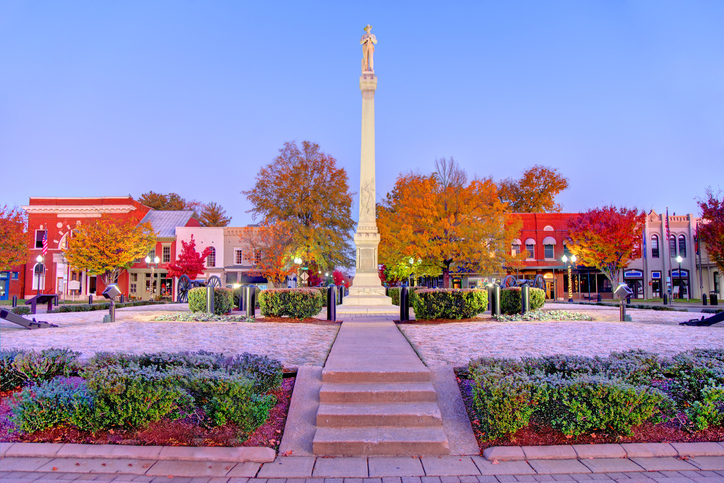 Providing The Fast, Responsive IT Support You Deserve
It is no accident that KTG ranks as one of Tennessee's most elite MSPs. Our fast, friendly service is the cornerstone of our responsive approach, and is a key reason why businesses across Williamson County turn to us for our IT services. In addition to our fast response times, we operate with our four core values in mind:
Integrity: We believe honesty and transparency are vital to a sound client relationship. So we offer fair prices and never try to upsell.
Responsiveness: We realize technology can fail at any time, so we are here to take your call 24 hours a day, seven days a week.
Respect: We value your time and industry position, and welcome your input as we prepare customized IT solutions for your business.
Commitment: Our team is 100% committed to providing you with the very best service we can.
Offering A Holistic Set Of Managed IT Services
Franklin's business-friendly atmosphere has helped it become the fastest growing city in Tennessee. Franklin continues to attract big box brands such as Nissan North America, Acadia Healthcare, and Community Health Systems. At the same time, the city's vibrant culture and strong entrepreneurial spirit lure some of the nation's most successful small to medium-size businesses.
KTG provides managed IT services to small to medium-sized businesses across Franklin, Tennessee. Whether you need managed IT services for your financial services startup or a tailored IT service package for your growing healthcare business, KTG can provide a comprehensive service package that meets your specific needs. Here is what you can expect when you choose KTG as your managed IT service provider:
A Dedicated Team: KTG's dedicated IT specialists will work tirelessly to ensure you receive customized support when you need it.
Streamlined Workflow Processes: We help you minimize downtime and interruptions by promoting  continuous workflow.
Regular Updates and Upgrades: Our team will install updates and upgrades to keep your company current and protected from threats.
The Latest Cutting Edge Technology: KTG will provide the latest proven technology solutions to help you stay a step ahead of your competitors.
A Customized Service Package: Your business is unique and deserves its own customized managed IT service plan.
Remote IT Support: With more employees than ever working remotely, we are here to help ensure your communications remain smooth.
Continuous Network Monitoring: We constantly monitor your IT networks and systems to safeguard against threats.
Helping Franklin Business Thrive With A Virtual CIO
Making the right key decisions to keep your infrastructure secure is vital to your company's growth and success. If your company could use a skilled IT leader to take your company to the next  level of success, Kraft Technology Group can provide you with a virtual CIO. Whether you need a short-term replacement or a transitional leader, a virtual CIO can bring the following benefits to your organization:
Establish IT goals and priorities for your organization
Provide input on compliance issues
Oversee day to day technology activities
Oversee vendor relationships
Assess and allocate IT team resources
Offering The Best Managed IT Security In Middle Tennessee
Regardless of your industry, you need a robust internet security plan. Failure to develop a sound plan can leave your business vulnerable to costly breaches and destructive hackers. On the other hand, a strong internet security strategy allows you to move forward with increased confidence knowing you are prepared to overcome threats. Here are some ways we can help you craft a bulletproof IT security plan:
Assist With Policy Development: The road to internet security begins with sound internal policies. We can guide you through this process.
Train Your Team: We can train your employees to spot internet security threats such as phishing emails, ransomware, and malicious links.
Create A Culture Of Security: When you create a culture of security at your company, your employees will become more security-minded.
Meet Cybersecurity Requirements: Our IT security measures can put your business on the fast track to industry compliance.
Develop An Incident Response Plan: We can work with you to craft procedures for your employees to use to report security threats.
Keeping Your Business Relevant Through Digitalization
Staying relevant in today's competitive marketplace is not easy. If you feel like your business is stuck in quicksand, we can restore your competitive edge by putting your business back on the path to digital transformation. Our IT experts will collaborate with your leadership team to leverage your existing resources and recommend tools for growth. In particular, we can help you boost efficiency in the following areas of your business:
Financial Reporting
Inventory Management
Sales and Marketing
Manufacturing and Production
Service Enhancements
Enhancing Franklin Businesses With Exceptional Cloud Service Support
Many business owners are surprised to learn that they could spend 36 percent less money on technology if they move to the cloud. If you have considered migrating to the cloud but have not yet made your move, Kraft Technology Group can walk you through the process and put your small to midsize business on the path to cost savings. Here is a look at what we can offer when we help you migrate to the cloud:
Web Hosting: Our web design service portfolio features site development, execution, hosting, and maintenance.
Cloud Backup: We offer reliable cloud backup to small and medium-size businesses in Williamson County.
Hosted Microsoft Exchange: We can introduce you to communication-boosting tools such as shared calendars, tasks, and public folders.
Cloud Workspace: Enjoy the convenience of being able to access applications from your favorite device from any location.
Disaster Recovery Services: We help you prepare for unplanned downtime and equip you with the tools to resume operations quickly.
Helping You Discover Your Company's Untapped Potential
At KTG, we believe there is always room for growth and improvement. If you feel that your business has only scratched the surface of its true potential, then a meeting with one of our Executive Technology Consultants could transform your operations and boost your ROI. To discover how one of our skilled IT consultants can help your business operate more efficiently, just call us at 615-600-4411. Here are some ways our consultants can assist you:
Help you collect and analyze data from your organization
Assess your IT network to spot opportunities for improvement
Enhance your current IT systems so they gather data more efficiently
Help transform your organization from a reactive
Educate your employees about internet security and device care 
Choosing The Best IT Company In Williamson County
With hundreds of IT companies serving the Franklin area, it is always wise to use care when choosing a provider. Not all IT companies are created equal, and it is up to you to ensure that the IT company you select has a proven track record of success. As you compare potential providers, make sure they have the tools and resources to deliver the IT support your business needs to operate efficiently. Here are a few qualities to seek as you evaluate IT companies:
Industry Experience: Providers with decades of experience serving clients in Franklin are typically better choices than new companies.
5-Star Client Reviews: Before you hire a provider, check their online reputation and narrow your search to companies with 5-Star Reviews.
Customized Managed IT Services: Providers with a proven track record of success in many types of industries are good choices.
Leading Edge IT Consulting Services: Selecting an IT service provider with expert consultants who can help you boost your ROI is essential.
A Proven Process: The top IT companies in Franklin have a proven step-by-step process that allows them to deliver exceptional service.
Your Single Trusted Source For All IT Services In Franklin, TN
Top quality IT Services can help take your business to the next level of success. Since 1993, the Kraft Technology Group team has worked tirelessly to exceed our clients' expectations. From healthcare companies to non-profit organizations, to financial service firms, our clients know they can turn to us for dependable IT services.
We invite you to contact us at KTG to arrange a complimentary consultation with one of our skilled IT professionals. When you work with us, you will understand why business owners across Franklin turn to us for IT service and support. We look forward to serving as your single source for all your IT needs!
---