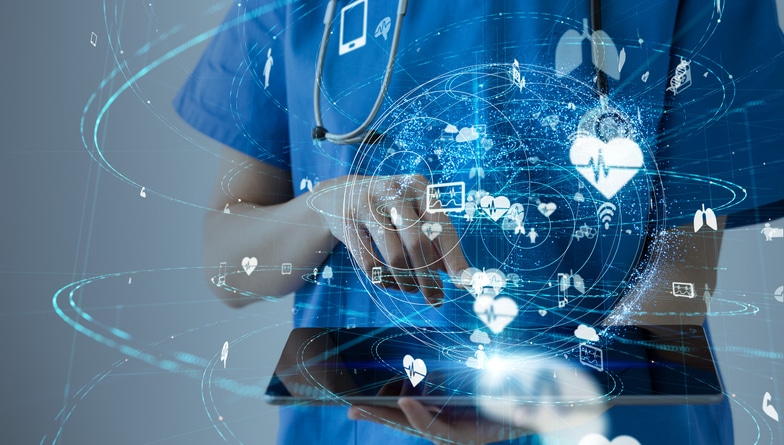 The healthcare industry is currently facing a crisis. Hounded by criticism of insufficient access to providers and poor bedside manner, skepticism abounds on the part of patients and their families. But with administrative tasks and paperwork at an all-time high, how can healthcare teams find the time to give their patients the attention and information they need?
Fortunately, digital communications have evolved in parallel, with new means for patient contact—from email through texts, apps through social media—developing with built-in security standards and measures. This wave of digital communications is smart to the potential risks of protected health information (PHI), and strives to be HIPAA-compliant wherever possible.
Ensure patients have all the content they need.
Today's digital messaging lends itself to customization. Choose from emails, SMS text messages, designing your own app, using existing messaging apps (WhatsApp and its peers), social media, browser pages, and more.
From all of these potential avenues, the choice as to which is most appropriate will be clear based on the demographics of the patient population being served. While elderly patients might not be all over Snapchat, this group might tend towards a specific operating system and platform—e.g. the Apple iPhone—which could shed some light on the ideal communication platform to employ with them.
Formatting the materials to fit the platform being used while maintaining universal accessibility is another key consideration. But as the adoption of digital communication continues to grow and the number of solutions expands, these problems will be incurred less frequently.
Leverage AI for one-on-one attention—while saving clinical time.
The knowledge of which specific channels are preferred by patient populations being served can be used to build solutions that enhance the patient experience. For example, if 90% of patients access the provider's website, a desktop-friendly chatbot could be a worthwhile investment.
Via advances in natural language processing (NLP), chatbots have been evolving to respond more appropriately to input than ever before. For patients, they reinforce an environment where it is not only safe, but even advisable for individuals to ask questions. These patients and their loved ones can get the answers they need without costing themselves or providers any additional clinical time.
Chatbot responses can be programmed to answer frequently-asked questions, as well as escalate potentially troubling scenarios. They can help handle feedback surveys and check-ins for patients who are post-op or who have chronic conditions. In fact, Gartner estimates that by 2020, 85% of consumer interactions will be managed using automated platforms like chatbots.
The form these AI interactions takes is not strictly limited to the written word. This flexibility in format allows accommodations to be made for any disability. People who have trouble seeing can use voice-activated platforms akin to Amazon's Alexa device, so they can then hear the answers to their questions and use their voices to navigate through their options.
Sustain easy, consistent process automation.
Being able to program chatbots or other response-generating platforms to automatically provide content based on contextual cues ensures that information is delivered where it's needed, and to resolve the questions patients, caregivers, and family members might have. Automation allows this to happen anywhere; patients are not bound to the clinic in order to resolve their queries, but rather can access the information they need anywhere—including in the privacy of their own homes.
Why not use these advances in the healthcare space to drive patient accountability, allow consistent communication, but also free up providers for situations where one-on-one attention is critical and does not lend itself to automation? Freeing up providers to intervene during emergencies or counsel patients emerging issues could drastically increase the rate of positive outcomes. Routine follow-ups and visits could be expedited, reducing their burden on clinical staff.
In fact, the use of digital platforms allows for the seamless integration of all of these solutions into patient administrations systems. This is how to render those systems the de facto central hub for patient communication and record-keeping. Using surveys to interact with patients also allows information and feedback to be gathered and automatically recorded to patient charts; everything from 'bad days' through missed appointments can be easily accounted for without any additional time spent by office staff.
This is a snapshot of where digital communications are currently, but it will only continue to evolve as the general public continues to incorporate these channels further into their lives. The most critical fact to keep in mind is that digital communication is what the public wants. For example, a recent Healthcare Communications survey in the UK found that 68% of patients surveyed wanted to be able to manage everything about their appointments online.
This might seem like a no-brainer as the number of digital consumes continues to grow with increased adoption. However, the fact that individuals are not becoming "burned out" on tech and digital communications but instead are seeking further avenues to implement it in their lives is significant. This bodes well for future implementations.
Staying ahead of the trends and making sure practices leverage the latest technology and communication will not only make sure patients' needs are met, but will boost their morale and increase the likelihood that they will comply with provider recommendations.
---