Don't Let Hackers Take Advantage of the Coronavirus Crisis to Attack Your Company.
There has been a significant increase in coronavirus-themed cyberattacks as more workers are being forced to work from home. This makes these companies an easy target for hackers — and the financial ramifications for your business can be significant. Hacking refers to attempts to compromise digital devices like computers, phones, and tablets. Employees working remotely from home will be using less-secure WiFi networks and may not be using company-approved computers or tablets. Using their own devices presents an unprecedented level of risk to your business. You have no idea if their photos, music, videos, or emails are infected with malware or ransomware that could severely impact your company's ability to maintain secure operations.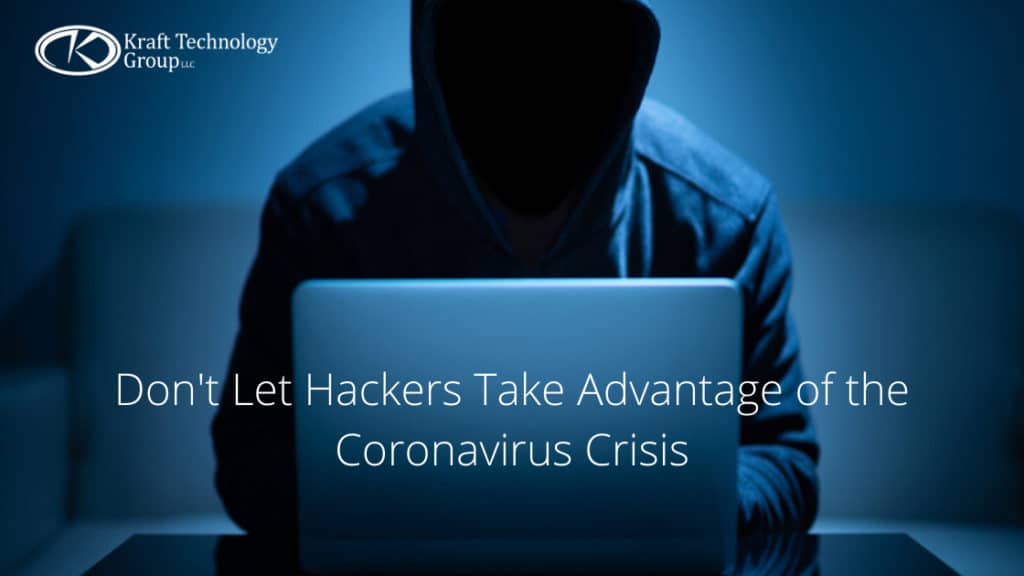 Malware
Malware is software used to gain unauthorized access to a computer and is specifically designed to disrupt and damage a computer system to steal data. Malware is a broad term to describe all sorts of unwanted or malicious code. Viruses, Trojans, spyware, and ransomware are among the different kinds of malware circulating cyberspace. Hackers regularly use ransomware, a type of malware, to extort money from unsuspecting individuals and businesses, and these attacks are accelerating in terms of volume and ferocity.
Phishing
Cybercriminals use a technique called phishing as a way of conning people into releasing personal data like usernames, passwords, and bank account details via email. Their emails are designed to look as if they came from a legitimate bank, government agency or organization. In the email, the cybercriminal asks the recipient to click on a link that is loaded with malware. The link takes them to a page to confirm their data and account information. Once the information is obtained, the hackers create new user credentials into their system to steal sensitive data.
Phishing Emails
There's been a significant increase in cyberattacks that take advantage of coronavirus to prey on the fear of people in the Nashville area. These emails may imitate trusted organizations such as the World Health Organization or the Center for Disease Control and Prevention. They send emails urging you to open a link offering where to get tested for COVID-19 or how to protect yourself. These email attachments are also loaded with malware to steal usernames and passwords to gain access to your data.
Hackers also call to offer things like a "COVID-19 kit," "Coronavirus package," or Medicare benefits related to the virus. They'll ask you to verify personal information like your bank account, Social Security or Medicare numbers.
Tips to Protect Your Company from Hackers
Be cautious with emails and files received from unknown senders, especially if they are offering exclusive deals, discounts, coronavirus advice, or cures.
Legitimate companies don't use email to request sensitive information or force you to their website. Don't open unknown attachments or click on links within the emails.
Beware of lookalike domains, spelling errors in emails and websites, and unfamiliar email senders. Legitimate companies know how to spell.
Check incoming email addresses by hovering your mouse over the 'from' address to make sure no alterations have been made like additional numbers or letters.
Double-check URLs. When hovering over the link, if the text isn't identical to the URL displayed as the cursor hovers over the link, that's a sure sign you will be taken to a site you don't want to visit.
You don't want to let hackers take advantage of the coronavirus to attack your company and steal your data. Use an IT professional to ensure that your data remains protected. In addition to providing you have the right cybersecurity protocols in place, you can also face threats like electrical failures, storms, and natural disasters. Protect yourself and plan for the unexpected as your business rebounds once the coronavirus is under control. If you are concerned about business continuity, reach out to Kraft Technology Group and learn how we can help. Call (615) 600-4411 to schedule a call with one of our IT experts.
---