The case for abandoning break-fix, volunteer-based IT support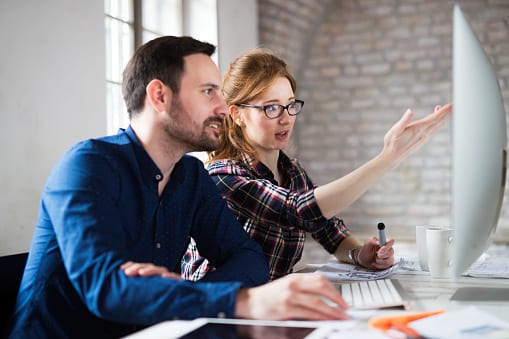 Elementary schools are very busy places with a variety of moving parts and different departments. Administrators face a big task in making sure the needs of students, families, teachers and support staff are met. Considering this long list of responsibilities, IT support often takes a back seat to other critical tasks.
In fact, there is a growing trend in the education industry that is seeing elementary schools rely on casual, volunteer-based IT support. Instead of laying out a deliberate plan and partnering with a managed IT service provider, educational administrators are simply using break-fix, as-needed models of support, provided by volunteers or tech-savvy team members.
"Bill Can Probably Fix That" – Why Casual IT Support Doesn't Make Sense
We get it. For busy elementary schools, IT simply isn't the top priority – and it shouldn't have to be. School administrators have more important things to be worrying about than making sure email is up-and-running and library computers are working. So, they get in a habit of only dealing with tech issues as they arise. Volunteers are called in on an SOS basis to address problems as they happen.
However, looking at the big picture, this approach can actually result in more work and stress for school administrators. Setting up a proactive plan with a team of strategic IT professionals can keep school networks secure and functional while making the lives of administrators easier.
It must be noted that tech volunteers can be extremely qualified professionals. It's not at all to say that volunteers aren't reliable or don't know what they're doing – it's just that they can't provide the same consistency and robust support that a managed service provider can. So, even though volunteers may be pretty good at answering your SOS calls, it just makes more sense to be proactive – especially in an increasingly digital world.
Let's look at the leading ways schools can benefit from abandoning volunteer-based, break-fix IT support:
The cyber climate is more dangerous than ever and it's evolving by the day. As cybercriminals get more sophisticated, it's critical that organizations get more vigilant. While your school may have anti-virus and firewall solutions in place, and volunteer support may be able to mitigate minor threats, there's something to be said for a robust and layered security strategy.
Managed service providers rely on industry best practices to implement proactive cybersecurity strategies and strategic monitoring tools. This kind of security strategy takes pressure off administrators and avoids potentially disastrous situations when volunteers are unavailable. Having a constant eye on the school's network provides unparalleled peace of mind for busy administrators.
Consistency & Predictability
Some of the concern around abandoning volunteer IT support is the potential impact on the budget. Education budgets are already stretched thin and there are rarely surplus funds to finance elaborate technical support. However, partnering with a fair and valuable IT service provider is actually cost-effective in the long run.
First, with managed IT services, schools avoid the downtime associated with tech failures or waiting on volunteer support. With a team of tech experts on standby, problems will be handled more quickly and employees in every department will remain productive.
Second, partnering with a managed service provider offers huge cost predictability potential. Administrators work with providers to determine what's needed and then they have a predictable monthly cost, which ensures systems stay consistently secure and functional. No surprising tech costs or guesswork when pricing out equipment – an IT partner works to support organizational budgets.
Partnering with an MSP provides more than security and support. Teams of IT professionals have extensive experience optimizing tech resources to meet the unique needs of any organization. By examining how a school operates and understanding department workflows, IT providers can help administrators streamline processes and increase efficiency.
For example, email platforms can be optimized to streamline communication between office and teaching staff. Calendar integration tools can help administrators and educators organize meetings and events and keep track of important deadlines and dates. Cloud platforms can help schools organize data, collaborate on projects and reach out to students and families. The possibilities for optimization are truly endless, and having a strategic IT partner to drive that optimization makes all the difference.
Finally, in a constantly evolving world of technology, it's critical to acknowledge that things move fast. In order to keep up, schools need to embrace new resources for learning and educational administration. Partnering with a managed IT service provider is a way of keeping a finger on the pulse of tech development.
A strategic IT partner can continually consult with school administrators to re-evaluate tech strategies and ensure the latest tech capabilities are being utilized to support educational goals. From smart-boards to learning software, having a technology partner on standby helps schools stay consistently connected with technological development.
Making the Switch: How to Transition from Volunteer IT Support to Proactive Managed Services
Understanding the benefits is one thing, but making the transition is an entirely different beast. Many school administrators have understandable concerns about finding a reliable service provider who will meet their needs without overselling. However, there are a few simple strategies that can help administrative teams make informed decisions when it comes to more formal IT support.
Really, it's is all about creating a 'needs inventory.' What does the current infrastructure look like and what does the school need in terms of technology resources? Is there already a reliable network infrastructure or is there a need to start from scratch? Are there dynamic software solutions in place for employees or is there a more casual and scattered approach? Once a school determines what they need from technology, choosing the right provider and resources will be much easier.
However, for administrators who are completely lost on where to start, it's a great idea to reach out to local IT service providers to get their input on how to best optimize IT for the school setting. Consulting with experts is a great initial way to set a framework for what's required and strategies for implementation.
---