Kraft Technology Group Receives Elite Cyber Verify AA Risk Assurance Rating
Kraft Technology Group has officially received the MSPAlliance® Cyber Verify™ Risk Assurance Rating for Managed Services and Cloud Providers. Cyber Verify is designed to provide consumers greater transparency and assurance when it comes to the cybersecurity practices of those providers.
"Today, more than ever, the consumer needs assurance when it comes to matters of cybersecurity and IT risk. We are honored to award Kraft Technology Group with the "AA" rated Cyber Verify seal and congratulate them on their exemplary display of dedication towards providing one of the highest levels of assurance possible to the consumer." said Celia Weaver, President of MSPAlliance. "Today, less than 5% of the global MSP community has achieved an AA Cyber Verify rating, placing Kraft Technology Group in an elite group of managed service and cloud providers world-wide."
Cyber Verify is based on the Unified Certification Standard™ (UCS) for Cloud and Managed Service Providers and governed by the International Association of Cloud and Managed Service Providers.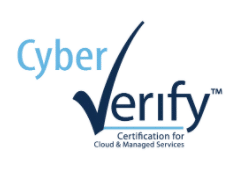 How Does The Cyber Verify Rating System Work?
The Cyber Verify rating system evaluates many different aspects of a company's service delivery, paying particular attention to security. Cyber Verify evaluates internal service delivery security practices, business continuity of the provider, cyber insurance usage, and many other characteristics that are important in the evaluation process of customers seeking out professional and secure providers.
Cyber Verify applies the following rating system:
AAA – evaluates the provider's cybersecurity practices on a 3-12 month period of review
AA – evaluates the provider's cybersecurity practices on a particular day
A – evaluates the provider's cybersecurity practices based on a thorough and in-depth self-attestation examination.
Cyber Verify must be renewed annually. The Cyber Verify is a first in the industry and specifically designed for outsourced service providers and the customers they service.
"Cloud security is a critical component of any cloud service," says Don Baham, President, Kraft Technology Group. "As we endeavor to help our clients gain greater and greater advantages in business using cloud technologies, it is vital that we maintain our ability to keep these clients secure. This certification will give our clients the confidence that we are keeping their cloud-based data protected against external threats."
ABOUT KRAFT TECHNOLOGY GROUP
Part of the KraftCPAs family of companies since 1992, Kraft Technology Group provides cloud services, IT security, network support, and managed IT services in the greater Nashville Tennessee area and beyond. Our mission is to empower small and midsize businesses to efficiently and securely utilize best of breed technology, so they can focus on reaching and exceeding their strategic goals.
ABOUT MSPALLIANCE
MSPAlliance® is a global industry association and accrediting body for the Cyber Security, Cloud Computing and Managed Services Provider (MSP) industry. Established in 2000 with the objective of helping MSPs become better MSPs. Today, MSPAlliance has more than 30,000 cloud computing and manage service provider corporate members across the globe and works in a collaborative effort to assist its members, along with foreign and domestic governments, on creating standards, setting policies and establishing best practices.  For more information, visit http://www.mspalliance.com/
---